Betty Kyalo Biography
Betty Mutei Kyalo, popularly known as Betty Kyalo, is a Kenyan journalist, media personality, and entrepreneur. She is one of the respected, celebrated women with self-dignity in the KTN News television channel. This was fulfilling because she was performing well in both English and Kiswahili, good proof of having good communication skills. She also encountered an accident when she was in form three, injuring her face in such a way that it was deformed. She as rushed to the hospital by a Good Samaritan, where she had eight surgeries, after which she was discharged.
Betty Kyalo Birthday and Age
Mutei was born in 1989 in Kajiado County in Kenya. She is currently 31 years old as of 2020.
Betty Kyalo Family
Being born in Kajiado County, she grew up in Nairobi with her parents and siblings. She is the second born in a family of five children; four girls and one boy. Betty recognizes only her mother and siblings as her father divorced her mom a long time ago when they were still small kids.
Betty Kyalo early life
Betty was born in Kajiado County in Kenya and grew up in Ongata Rongai and Kahawa West, Where she was raised by a single mother. The fact that her parents parted, she still has the presence of her father in her life.  As a growing child, she used to spend her leisure time watching the Veteran TV news anchor, Catherine Kasavuli, whom she looked at as her role model.
She grew up with an ambition of becoming a news anchor, just like Catherine Kasavuli. She was heard saying, "I originally wanted to be a mum because they looked so angelic and peaceful in church, but I guess television was more appealing."  During her studies, she made sure that she focuses on her dream career of becoming a journalist.
Betty Kyalo's Marriage
Betty Kyalo got married to a fellow journalist, Dennis Okari, following a ceremonious wedding where they exchanged vows. The wedding ceremony took place at Marula Manor in Karen, Nairobi, and was attended by 150 close friends and family. The public was prohibited from attending the ceremony due to unknown reasons. However, weeding photos and congratulatory messages were posted on social media, where the public could view it. After the wedding, the couple proceeded for their honeymoon in Diani, after which they had a 15- day tour around the world.
Betty Kyalo Children
marriage is blBetty has one daughter named Ivanna Okari; she is so blessing to her parents. She is praying for another blessed marriage to have more kids.
Betty Kyalo Divorce
After the wedding, the couple lived six months before the marriage broke. The divorce was as a result of infidelity and irreconcilable differences between the two. After the divorce, Betty moved out of her husband's home and rented an apartment in Nairobi, where she stayed with her daughter, Ivanna. Apparently, Dennis Okari is a womanizer as Betty found him dating another woman, thus ending her affairs with him.
Betty Kyalo salary and Net Worth
The journalist is said to have an estimated salary of between 180,000 -300,000. However, her true salary value is under review by our teams and we shall update it once the value is accessible from our reliable sources.
Betty Kyalo net worth
Her net worth is not yet known, but we will update once it is found. Our teams are reviewing this section and we shall update it once it is accessible from our reliable sources.
Betty Kyalo Wiki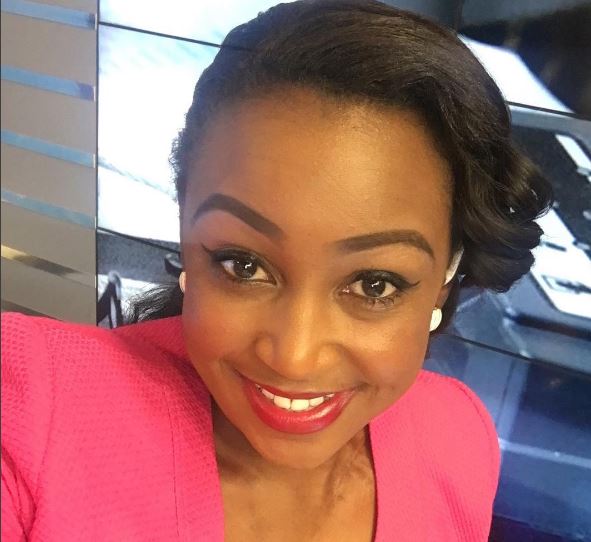 Full Name: Betty Mutei Kyalo
Famous as: Betty Kyalo
Sex: Female
Age: 31 years
Date of Birth: 1989
Place of Birth: Kajiado County, Kenya
Nationality: Kenyan
Marital Status: Divorced
Spouse: Not yet married
Kids: 1
Occupation: Journalist
Salary:  between $1800 – $3000
Net worth: Not available
Religion: Unknown
Betty Kyalo Education
Betty went to Olerai Primary School and later on transferred to Uhuru Garden Primary School, where she obtained her first certificate. After primary education, she joined Kangundo Girls High School, where she pursued her secondary education. Upon completion of her secondary education, Betty joined the University of Daystar, where she graduated with a bachelor's degree in Mass Communication.
Betty Kyalo Career
Kyalo commenced her professional career as an intern at KTN TV channel, and thereafter she started doing Auto World, a segment that is aired on KTN, on Sunday at night. While in KTN, she was promoted to the extent of hosting the Prime Time News. After working in KTN as a News Anchor for some time, she resigned and started working with K24 as a weekend news anchor. She also runs a program called 'Up-close with Betty Kyalo and Weekend with Betty Kyalo.'
Betty Kyalo Accident
Betty encountered a deadly accident in Nairobi while in form three when she was trying to cross the road from the railway station to Gill House. She was going to meet her friend to go for lunch when she was hit by a Double M bus and fell on the ground. A Good Samaritan who saw her rushed her to the hospital where she underwent eight surgeries and went back home in October 2005. While in hospital, Betty was highly supported financially by her school administration and her fellow students.
Betty Kyalo Awards
The Kenyan journalist won the Media Personality Award at OLX Social Media Awards. She was ahead of her fellow journalists like Jeff Koinange, Carol Radul, Amina Abdi, Radio MC, and Adelle Onyango.
Betty Kyalo Salon
Apart from being a journalist, Betty has extended her mind outside the box by started her salon business. She opened the beauty salon at Kilimani and employed the skilled staff that is dedicated to the job. She makes sure that her clients are given the quality and affordable services that they need.
Betty Kyalo's contacts
Facebook: Betty Kyalo
Twitter: @BETTY KYALO
Instagram: bettymuteikyalo
You Tube
Frequently asked questions about Betty Kyalo
Who is Betty Kyalo?
Betty Kyalo is a Kenyan celebrated journalist, media personality, and entrepreneur who works with KTN TV as a news anchor.
How old is Betty Kyalo?
Betty Kyalo is currently years old as of 2020. She was born in 1989 in Kajiado County.
How tall is Betty Kyalo?
She has an average stature and height, as seen in her photos. Her exact height is not known, but we shall update as soon as we get it.
How much does Betty Kyalo earn?
Betty is one of the richest journalists in Kenya as she has an estimated salary of between 180,000 to 300,000 Kenya shillings.
How much is Betty Kyalo's net worth?
Betty's net worth is not yet known, but we shall update as soon as we get it.
Is Betty Kyalo married?
Kyalo was married to Denis Okaro, a fellow journalist but divorced after six months of marriage.
Does Betty Kyalo have children?
Betty Kyalo has a daughter called Ivanna Okari, whose father is Denis Okaro. After the divorce, Betty moved from her matrimonial home with her daughter and rented an apartment in Nairobi, where she stayed.
Where does Betty Kyalo live?
Betty is currently living in Nairobi, Kenya.
Is Betty Kyalo alive or dead?
Kyalo is alive and in good health. She is still working as a news anchor on the NTV channel.
References
We value and acknowledge the following media for information access during the writing of this article.
Wikipedia
Facebook
Pinterest
IDBM