Chiwetalu Agu Biography
Chiwetalu Agu is an award-winning Nigerian movie actor, comedian, movie producer, and Tv personality. He is a multi-talented, creative, and humorous actor that makes Nollywood movies very interesting to watch. The veteran actor is renowned for using proverbs, amusing phrases, and slangs in the indigenous Igbo language in every movie he features in. He is famously known for acting red cap chief, titled man, sorcerer, occultic, traditional chief priest, evil character, widow inherited among other funny roles. Chiwetalu is very knowledgeable and understands role interpretation in the Nollywood, although he has been accused of using vulgar language in most of his movies. The Nollywood legend is very famous and is regarded as one of the scarce and highly paid Nollywood actors.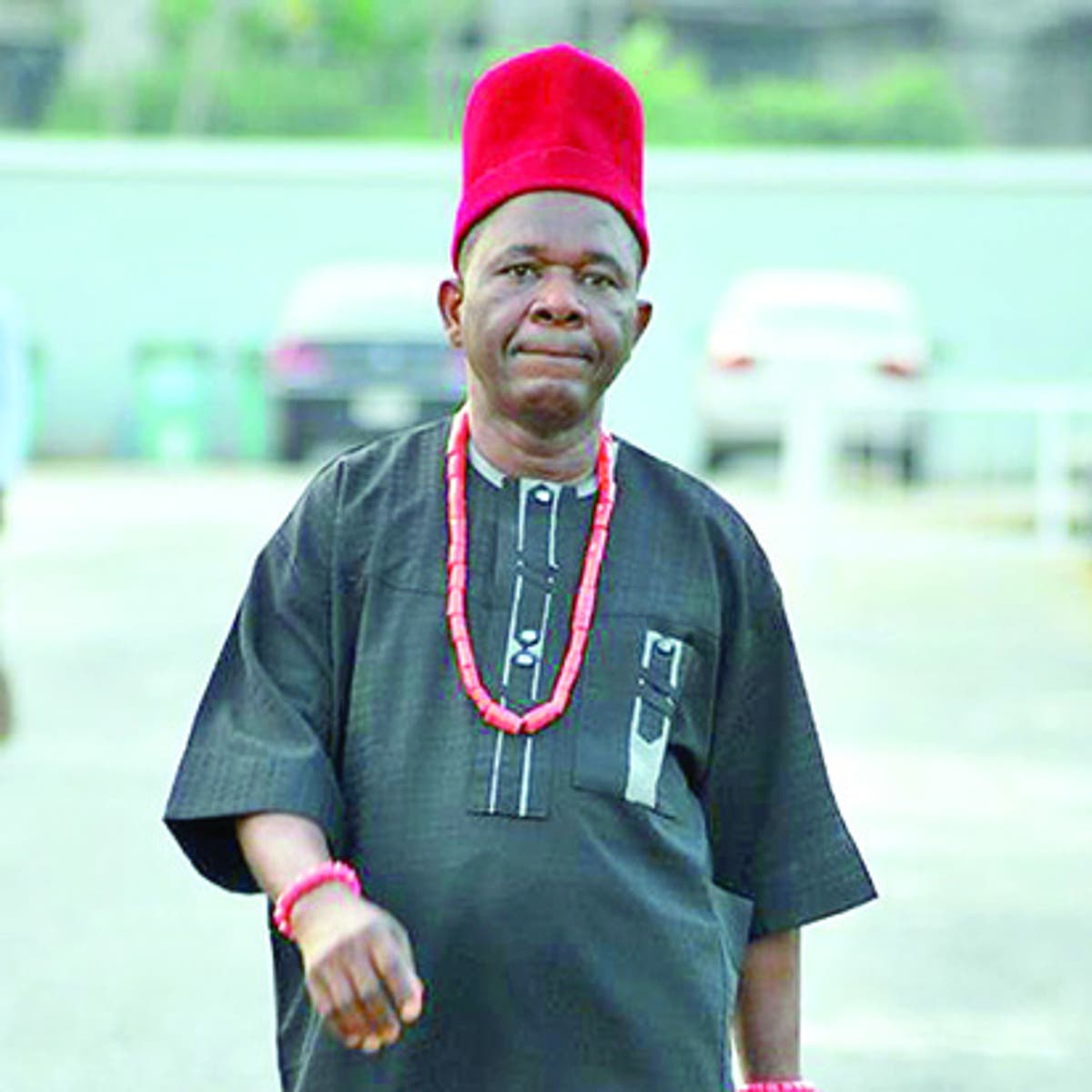 Chiwetalu Agu's Birthday
Chiwetalu Agu celebrates his birthday every 27th October of every year in honor of his birthday on 27th October 1956. He was born and raised in Amokwe village of Udi Township in the Enugu state of Nigeria. He is currently 64 years of age, making him one of the veteran and aged Nollywood actors.
Education life
Chiwetalu Agu was enrolled at Municipal Council School for nursery education in the Ogui Urban state in Enugu state from which he proceeded to primary School. He joined Saint Luke's Primary School, located in Ogui, in Enugu, where he successfully acquired his first School leaving certificate. He was among the privileged persons to join the College of Immaculate Conception in Enugu for secondary education. He successfully completed the education with a Senior Secondary School certificate. Chiwetalu furthered his education at the Miicnhen College, where he specialized in the dramatic Arts graduating with a Diploma certificate. He also flew to German to further his education in dramatic arts at the Wiest College.
Chiwetalu Agu Marriage
The renowned actor Chiwetalu is married to his loving and caring wife, Nkechi Agu. Marriage has been blessed with five children, two daughters, and three sons. The actor lived a poor wrenched life that made him fear to engage women on love matters before he succeeded in acting. He is very grateful to God that he got the best woman ever, a suitor and companion of his heart desire. Marriage is very successful, with limited hitches and complications.
Chiwetalu Agu Wiki
Full Name: Chiwetalu Agu
Famous as: Chiwetalu Agu
Age: 64 years
Date of birth: 27th October 1956
Place of birth: Amokwe Village, Udi Township in Enugu State, Nigeria
Nationality: Nigerian
Sexual orientation: Upright
Marital Status: Married
Spouse: Nkechi Agu
Kids: Five
Education: Miicnhen College
Profession: Dramatic Arts
Occupation: Nollywood Actor and Producer
Net Worth: $850,000
Chiwetalu Agu Journey into Nollywood Career
Chiwetalu Agu is one of the gifted persons in dramatic acting. He was already famous in acting before the Nollywood industry was born in Nigeria. After his college life, he featured in the drama "Things Fall Apart," of Chinua Achebe playing the role of Anikwu in the year 1981. He also featured in Tv series Ikoro at the Nigerian Television Authority Channel. The Nollywood legendary comic actor also gained fame in Nigeria when he featured in another Tv series "Baby Come Now," and "Ripples," of ETV channel in 1987. By the time Nollywood came into the picture, Chiwetalu was already famous in comic and dramatic acting. The veteran actor came into Nollywood limelight after taking a role in the famous Nigerian Movie "Living in Bondage" of 1992, of Kenneth Nnebue that gained him more fame in the industry.
Chiwetalu is one of the renowned and outstanding comics and evil personified actors in the Nollywood industry. He has starred in more than 700 productions and 400 Nigerian movies. He plays both sympathetic and evil characters, although he mostly plays the role of evil red cap chief, titled elder, chief priest, occultic and evil men in the society. Some of the famous Nollywood movies of Chiwetalu Agu include Price of Wicked, Friend of a Widow, Last Ofala, The Priest Must Die, Burning Kingdom, Battle of the Gods, among others. He has starred in Nigerian films alongside other industry icons like Pete Edochie, Kanayo O Kanayo, Patience Ozokwor, Chacha Eke Faani, Chika Ike, among others. He is a very talented, humorous, kind, and interesting person to work with, as described by his fellow actors in the Nollywood industry. It is amazing to fans on how the legend combines his humble and disciplined real-life and wicked movie roles.
Apart from acting, Chiwetalu Agu is also a movie producer. He produced his first movie titled "Taboo," at the same time playing the character Ichie Ogwu, from which he acquired his petty name Ogwu. Chiwetalu production additionally produced a Tv series "The Advocate," which was very interesting and famous. However, the legend revealed that the production was not that profitable.
Chiwetalu Agu filmography
In the course of an acting career, Chiwetalu Agu has starred in the following movies playing different roles.
Taboo
Living in Bondage
Things Fall Apart
Ripples
Return of Justice by Fire
Traditional Marriage
Fire on the Mountain
Price of the Wicket
Friend of a Widow
Last Ofala
The Priest Must Die
Burning Kingdom
Dr. Thomas
Flying Cap
Priest must Die
The price of Sacrifice
Family Bondage
Old School
The Catechist
Police Recruits
Sunrise
Honorable
Nkwocha
Across Niger
Sounds of Love
The plain Truth
Church Man
Beauty and Beast
Evil Twin
Royal Destiny
Burning Kingdom
The Maidens
Battle of the Gods
The Wedding Party
Ordinary Fellows
The Moving Casket
Chiwetalu Agu Awards and Honor
The veteran comic and evil personified actor, Chiwetalu Agu, has been nominated to numerous wards and bagged several of them due to his outstanding performance and humor in movie role-playing. In the course of his acting career, Chiwetalu has received the following awards:
Best Actor in Indigenous Movies in 2012, at the Nollywood Movie Awards
Best Supporting Actor in 2011 nomination at Zulu African Film Academy awards
Best Actor in Supporting Role in 2008 Nomination at African Movie Academy Awards
Most popular Awards by Catholic Church of Nigeria
Chiwetalu Agu Net Worth
Chiwetalu Agu is considered as one of the richest and powerful Nollywood actors in Nigeria. He derives all his wealth from Nollywood acting, film production alongside other investments he has. He is estimated to be worth $850,000, making him very influential.
Chiwetalu Agu Arguments
Chiwetalu Agu once described sexual harassment as a general phenomenal issue that sparked heated debates both on social media and physically among his fans. He described Nollywood actresses as well-endowed persons, a statement that sparked hot discussions about his reputations and morals in the industry. Of late, the Nollywood legend was attacked by a famous upcoming actor, Gideon Okeke, for using vulgar language in most of his movies on his social media platforms. The upcoming star wanted the Nollywood legend banned from acting in Nigerian movies. However, his loyal fans attacked Okeke, calling him all sorts of names and demanding he withdraws the statements. Chiwetalu Agu defended himself from Okeke by asking him to allow the censor board of Nigeria to do its work.
Chiwetalu Agu Politics
The veteran actor has of late declared that politics is a dirty game, and he cannot venture into it. Politics is not for him neither for other Nollywood stars. He called other Nigerian actors from venturing into politics, although he affirmed the need for good leadership to move the country the right way. He called on Actors Guild of Nigeria members to desist from politics and use of peaceful means of acquiring powers for politicians. Agu believes that politics is only meant for evil-minded persons that are ready to venture into dirty games.
Frequently asked questions about Chiwetalu Agu
Who is Chiwetalu Agu?
Chiwetalu Agu is an award-winning Nigerian actor, comedian, movie producer, and TV personality.
How old is Chiwetalu Agu?
Chiwetalu Agu was born on 27th October 1956 in Amokwe village, Udi Township in the Enugu State of Nigeria is currently 64 years.
Is Chiwetalu Agu Married?
Chiwetalu Agu is married to Nkechi Agu, and the family has five children.
Is Chiwetalu Agu dead or alive?
Chiwetalu Agu is alive and in good health and of sound mind. There are no reports of his deaths or any information that his life is in danger.
Where does Chiwetalu Agu live?
Chiwetalu Agu has a bigger mansion, although his exact place and specific residential details are not known.
Where is Chiwetalu Agu?
Chiwetalu Agu is currently acting Nollywood movies besides producing them.
Chiwetalu Agu Contacts
Facebook
Twitter
Pinterest
Instagram
TikTok
References
We sincerely appreciate the following sites for adequate information we accessed about Chika Nancy Ike.
Mordernghana.com
Wikipedia
Naijagist.com
Bellanaija.com