Jeff Koinange Biography
Jeff Mwaura Koinange, popularly known as Jeff Koinange, is a Kenyan journalist and an award-winning news anchor working at Citizen Televiosion. Previously, he has worked with CNN, NBC News, Reuters TV, KTN, ABC News, and K24. In CNN, he worked as Logos Bureau Chief for around five years, after which he became the Network's Senior Africa Correspondent in Johannesburg. He is the known author of the book titled 'Through My African Eyes.' He currently hosts a country Radio Show on Nation FM every Sunday from 5.00 PM to 7.00 PM besides anchoring the JKL live, on Wednesday at 9:00 pm news at Citizen TV, in Kenya.
Jeff Koinange Birthday and Age
Jeff Koinange was born on the 7th of January, 1966 in Kiambaa village, in Kiambu county of Kenya. He is currently 56 years old as of 2020 and therefore celebrates his happy birthday with his family, friends, and workmates on the 7th of January every year.
Jeff Koinange's Family
Koinange is the last born child of Fredrick Mbiyu Koinange. His grandfather, Chief Koinange Wa Mbiyu was from the Gikuyu tribe, and he had six wives. Long before the declaration of the State of Emergency, Jeff's father met Hilda Wambuyi Ngoima, whom he fell in love, and before he could pay her dowry; he was jailed and detained. Jeff's father died of brain hemorrhage when his mother was 28 years old. After Jeff's father died, his mother was left with the responsibility of raising Jeff and his siblings, namely Hilda Wanjiru, Phyllis Wangui, and Freddie Koinange.
Jeff Koinange's Marriage
Jeff married his first wife, a Panamanian woman called Sonya, in 1988. The marriage broke up in 1994 when Jeff caught his wife ready handed on the bed with another man. Although they parted, Jeff cannot forget how precious and loving Sonya was, and he takes her as a special woman ever found in his life.
Currently, Jeff Koinange is married to Shaila Koinange, and the couple is blessed with one child called Jamal Mbiyu, born in 2007. Jeff met Shaila in 1986 when both of them went for an interview with flight attendants with the Pan Airline at Nairobi safari line. After parting with his first wife Sonya, he married Shaila in 1998, and they all live happily.
Jeff Koinange Wiki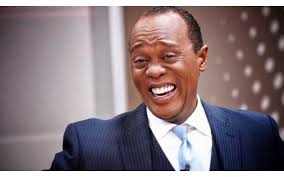 Full Name: Jeff Mwaura Koinange
Famous as: Jeff Koinange
Age: 54
Date of birth: 7th of January, 1966
Place of Birth: Kiambaa village, in Kiambu County, Kenya
Nationality: Kenyan
Marital Status: Married
Spouse: Shaila Koinange
Sexual orientation: Upright
Kids: one kid, Jamal Mbiyu
Religion: Unspecified
Education: University
Profession: Journalism
Occupation: Journalist
Employer: Nation FM, Citizen TV
Salary: $5000 p.a
Net Worth: $40000
Jeff Koinange Education
Jeff acquired his secondary education in Hospital Hill School in Parklands from 1972 to 19 74. He then transferred in 1975 to St. Mary's and did his A-level there. Upon completion of secondary education, Jeff joined the College of Kingsborough Community in Brooklyn, New York, taking a course in Broadcast Technology and Management. After graduating from college, Jeff received a scholarship to continue his studies at the Prestigious University of New York. He again graduated in 1991 with a bachelor's degree in Broadcast Journalism.
Jeff Koinange Career
Jeff worked as a flight attendant for Pan Am World Airways in 1986 immediately after his secondary education. His job as an attendant helped him discover his communication talent. He later resigned from the airline job to continue with his studies as journalism. In 1998, he worked with KTN News partly as a news anchor and partly as a Reuter's Correspondent.
In KTN, le was liked and loved with some people, but others disliked him because of his American Accent. He was appointed as Reuters West Africa Bureau Chief in Ivory Coast but later on, he moved to Johannesburg in South Africa, where he operated hi job. In 2001, Jeff moved to work with CNN as a Bureau Chief in Lagos, Nigeria. He started working with K24 TV, hosting a show known as 'On the Bench' in November 2007 up to December 2012.
From January to August 2013, he worked with Arise television in Johannesburg, South Africa, and in September the same year, he returned to Kenya to resume his job as a Bureau Chief of East Africa till now. In 2013, He hosted the Talk SHOW, 'Jeff Koinange Live on KTN TV from 10.00PMon Wednesdays and Thursdays.
Jeff Koinange Citizen TV
Jeff Koinange is currently anchoring the famous JKL Live edition of citizen TV, at 9:00 pm. He is the main anchor of 9:00 Pm news named JKL Live that is aired on every wednesday of every week.
Jeff Koinange Awards
The famous journalist, Jeff Koinange, has won many awards in his name. Some of them are as follows.
Moran of the Burning Spear Award received from President Mwai Kibaki for his contribution to journalism in Kenya.
George Forster Peabody Award for covering the Hurricane Karatina in New Orleans, United States of America
First African to ever win a TV EMMY for a story he did on famine in Niger, West Africa
Prix Bayeux for War Coverage for a story he did on rape victims in the Democratic Republic of Congo
Jeff Koinange's attack by the thugs
Koinange was attacked in April of 2016 by the thugs who broke into his house at 2.00 AM in Kitusuru and stole several electronics. Before the police could arrive, the thugs had run away.
Jeff Koinange Arrest
Koinange was arrested alongside with a businessman called Tony Gachoka in May 2015. They were accused of neglecting to appear before the court magistrate after being arrested and later released on allegations of defying the law. Jeff's arrest was as a result of involving in a dispute with Jimmy wanjigi, and Sani Mbui Wanjigi and Kwacha Group of Companies Limited. The dispute commence in March 2015 when the complainants raise their complaints against Jeff.
Jeff Koinange's Wealth
Apart from his career as a journalist, Jeff has obtained much wealth from other sources like entrepreneurship. He has a Mercedes G Wagons which is worth 13000 . His recent total assets are worth $50,000 He also owns a house located in Kitusuru and a curving for extraordinary imported Cuban Stogies, all totaling to $ 50,000.
Jeff Koinange's salary and Net Worth
Koinange is one of the richest journalists in Kenya. He has a net worth of $40,000 . His salary amounts to $50,000 million every year.
Jeff Koinange's Contacts
Facebook
Instagram
You Tube
Twitter
Frequently asked questions about Jeff Koinange
Who is Jeff Koinange?
Jeff Koinange is a famous Kenyan journalist and an award-winning news anchor that is currently working on KTN.
How old is Jeff Koinange?
Jeff Koinange is 56 years as of 2020. He was born on the 7th of January, 1966 in Kiambaa village, Kiambu County.
How tall is Jeff Koinange?
Jeff's height is not yet known. We shall update as soon as we get the information.
Is Jeff married?
Jeff married his first wife, a Panamanian woman Sonya in 1988, but the marriage broke in 1994. The reason for the break up was that Jeff caught his wife read handed on the bed with another man.
In 1998, Jeff married another wife by the name Sheila. The two now lead a happy marriage, and there is no news about their divorce.
Does Jeff have children?
Jeff's marriage with Sheila is blessed with one child called Jamal Mbiyu, born in 2007. There is no news of Jeff having any child with his first wife, Sonya.
How much is Jeff Koinange worth?
Koinange happens to be one of the richest journalists in Kenya, with an estimated net worth of Ksh.2 million.
Is Jeff Koinange alive or dead?
Jeff is alive and in good health. There is no news about him having any health-related conditions.
References
We value and acknowledge the following media for information access during the writing of this article.
Wikipedia
Facebook
Pinterest
IDBM